The transfer of the claim title will be initiated as soon as the payment is received and cleared in the seller's bank account.

There's no guarantee that you will find any precious metal on this claim because I have no control over your mining abilities and past experiences nor your understanding of the quebec mining laws.
If you have any question about quebec mining laws just let me know I will answer your question or redirect you to someone who'll be able to answer you.
Originally this claim was NOT FOR SALE but we have to fund a venture and we need capital so my loss your gain.
Owning a claim near beauceville (chaudiere appalache) is a once in a lifetime opportunity.

DON'T MISS IT!
$5,000 OBO - Serious enquiers only.

Contact:
Email: joel@aureusgoldmines.com
Website: www.aureusgoldmines.com
---


Feb.28/13


Silver & Kenny Creek

Kenny Creek flows easterly into Silver Creek at a point approximately 39 kilometres northeast of Takla Landing. Gold was originally discovered on Silver Creek in 1868, but production from both creeks was not reported until the 1930s. Drilling was undertaken to test Silver Creek in 1935 and again in 1954, and work has continued sporadically until recently.

The area is underlain by a north northwest striking, steeply dipping metasedimentary/volcanic suite assigned to the Carboniferous to Jurassic Cache Creek Complex, along and west of the Pinchi fault zone. Here, phyllite and tuff are the most common members. These rocks host numerous barren looking, locally rusty, white quartz veins varying up to a metre in width. East of the fault zone, andesite and sandstone assigned to the Middle Triassic to Lower Jurassic Takla Formation have been mapped.
The creeks have fairly wide valleys with high gravel banks on both sides. Concentrations of placer gold were apparently found in shallow preglacial gravels on or immediately overlying bedrock.
Combined production from Kenny and Silver creeks to 1949 is reported to be 19,968 grams of gold (Geological Survey of Canada Memoir 252, page 141). Recent production from Kenny Creek, approximately 1 kilometre up from its confluence with Silver Creek, is reported to have totalled 22,395 grams gold for the period 1979 1982 (Assessment Report 11625, page 3). Sporadic work has continued up to the present.
Nuggets of arquerite, a native amalgam of silver and mercury, and boulders of cinnabar up to 60 centimetres in diameter have also been found in Silver Creek near its confluence with Kenny Creek (Geological Survey of Canada Memoir 252, page 141).
Asking price, 25,000.00 for both claims.
Contact: Darrel Davis
Email: darreldavis@yahoo.com
---


Feb.25/13


Amazing Investment. Comstock Mine

The Comstock occurrence is located at about 2103 metres elevation on the divide between Fennell and Silverton creeks. Silverton, British Columbia is located 11.5 kilometres to the northwest. The Comstock Group historically consisted of seven claims including the Ruby Trust (Lot 1804), Silver Chief (Lot 1813) (forfeited to the Crown February 9, 1993) and Comstock (Lot 1814) (forfeited to the Crown February 9, 1993), Silver Cup (Lot 1815), Isabel Fraction (Lot 1817) and Kentucky Girl (Lot 1818).

The earliest recorded work was in 1898 and continued intermittently until 1920. Early workings consisted of nine adits totalling 853 metres length. A mill was erected in 1897 to treat Comstock ore but was only used for two months. No further work was recorded until 1970. Work in 1970 was conducted by R.H. Murphy and partners and included a small shipment of dump material to the Trail smelter. Further work was done in 1972 and 1973. In 1976, H.S. Murphy and R.H. Murphy conducted a geochemical survey, trenching and one 25-metre drillhole. In 1988, Dragoon Resources Ltd. custom smelted ore in a mill in Ainsworth.
The area is dominated by granitic rocks of the Middle Jurassic Nelson intrusions. At the Comstock occurrence these consist of biotite lamprophyre and quartz monzonite.
At the Comstock mine, mineralized quartz veins occur predominantly along the contact of a biotite lamprophyre body and quartz monzonite, both of the Nelson intrusions. The quartz monzonite is fine to medium grained, massive and fresh. The biotite lamprophyre is dark grey to black, medium grained with local coarse biotite crystals; magnetite is common. Monzonite blocks occur within the lamprophyre body.
Quartz veining and related mineralization is hosted in a brecciated zone 5 centimetres to 2 metres wide, striking 035 to 055 degrees and dipping 35 to 55 degrees southeast. Mineralization consists of galena, sphalerite, minor tetrahedrite and trace pyrargyrite. Gouge is evident on both the hangingwall and footwall of the zone which also contains crushed quartz monzonite and lamprophyre fragments. The zone has been traced over a strike length of approximately 2100 metres between the 1670 and 2040 metre elevations (Assessment Report 17821).
Intense iron carbonate alteration, limonitic fractures and minor quartz-carbonate veining occur adjacent to the main mineralized zone. Several east striking lamprophyre dikes and quartz veins intersect the main zone. Measured geological (proven) reserves at the Comstock-Silver Cup property is 45,355 tonnes grading 1199.8 grams per tonne silver, 6 per cent lead and 10 per cent zinc (Western Investment News - May 1987).
The Comstock mine was developed by nine adits. Stoping was carried out between the second and third levels and between the fifth and seventh levels, for a strike length of 15 metres and 109 metres respectively. The underground workings have explored the mineralized zone over a vertical distance of 121 metres. Production records indicate 455 tonnes of ore mined. From this, 1,687,774 grams silver, 12,387 grams gold, 217,634 kilograms lead and 126,657 kilograms zinc were recovered.
Comstock Mine has a measured drilled reserve 1,750,000 ounces Silver,10,000,000 lbs Zinc ,6,000,000 Lead worth $70,000,000 U.S
Contact: Darrel Davis
Email: darreldavis@yahoo.com
---


Feb.9/13


Advanced Gold Silver Property in South Central B.C.

This property has had over $3,000,000 spent on exploration up until 1989 and has been idle since. At the conclusion of the programs it was determined that a mineralized zone with an estimated average thickness of 7.1 meters indicated a tonnage of about 17,000,000 tons with an estimated composite average grade of 0.056 oz/ton Au and 1.97 oz/ton Ag. These grades were based on drilling and over 3500 tons of bulk samples. One zone grading 0.167 oz/ton Au and 6.1 oz/ton Ag indicated that there could be about 1.6 million tons of material based on drilling and a 45 ton bulk sample.

There is sufficient drilling to provide technical detail for production planning for 500,000 tons of open pit material.
The entire deposit also contains over 2% graphite that could possibly be a viable by-product.

If you have any interest in receiving the latest (1989) report on this property, I'd be happy to email you a copy.

For Option or JV.

Email: wsmith440@yahoo.com
---



Feb 7, 2013


Sparkling Creek - Dawson City, Yukon

Turn Key Operation!!
For more information, go to Dulac Mining

52 Grouped Claims (over 5 miles in length)
The water license and land-use permits are all in place until 2016.
The camp is currently set-up for 6 employees with plenty of room for expansion.
It is beautiful gold, lots of nuggets and some fine gold. Nice for jewelry.
Wayne has seen nuggets up to 3 ounces.
He found the ground to be between 25 and 28 feet deep.
The material that Wayne has put through his plant worked out to be about $28.85/cubic yard at $1,000/ounce gold price at the time.
Over 60% of the claims are virgin ground.
Go to Dulac Mining for a full equipment list, maps and photos.
Contact: Wayne and Bev Fischer
Email: beway@northwestel.net
---



Feb 5, 2013


Klondike Quartz Claims For Sale

The Prospective claims are located in the Klondike district, 50 km South East from Dawson City and 550 km North West from Whitehorse, and are in the Dominion Creek area (Map ref. 115O15). 6 claims for sale, 5 connected and on the brow of a likely source of placer deposits and 1 sited just off a main access road, approximately 2 km from the other 5 claims.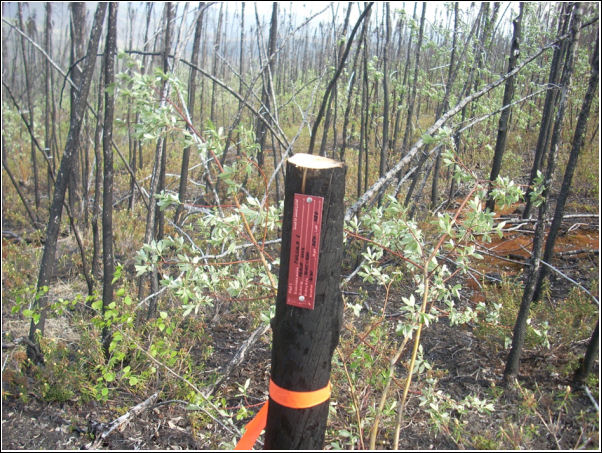 These sites come with a full and comprehensive geological rock structure report compiled by a professional geologist over a 3 week on site survey period. 4 samples from the area have been analysed by the Eco Tech laboratory in Whitehorse. A short report can be found at www.placergold.co.uk
All sites are mark stamped but no further work has yet been carried out. Old access roads exist and could be easily resurrected to develop the 5 linked claim sites.
Price is negotiable.
For further information and site photographs contact:
Email: Philip.lock@blueyonder.co.uk
Tel: +447714263746
---


Jan.30/13


QUARTZSITE, ARIZONA

640 acres of Bureau of Land Management placer mining claims located 6 miles SE of Quartzsite Arizona.

Location and Access:
Plomosa Mining District, Quartzsite Arizona

Description:
The Plomosa Placer Property consists of (4) 160 acre unpatented placer mining claims located on Bureau of Land Management (BLM)in the historic Plomosa Mining District. Similar size placer projects in this district have recently sold for 12M-15M. This project is adjacent to the 700 acre "Jackpot" property which was recently approved by the Bureau of Land Management for commercial gold production.

Geology:
The Plomosa Placer Property is located within the Basin and Range Province, which comprises the southern third of the state of Arizona. The region is characterized by linear mountain ranges separated by downthrown, alluvium-filled basins. In southern Arizona, a "belt" of Precambrian "metamorphic core complex" ranges forms a sort of transition zone between the younger, predominantly volcanic desert mountains of the south and the folded and faulted highlands of central Arizona.

The Plomosa Mountains rise up just west of the Bouse Hills to the north and extend for tens of miles southward. The Plomosas form the eastern wall of the La Posa Plain for nearly its entire length. The northern half of the Plomosa Mountains is predominantly composed of Mesozoic sandstone, shale, conglomerate, and limestone. Slightly younger Cretaceous to early-Tertiary sediments crop out along the northernmost point of the range, and small outcrops of ancient Precambrian gneiss also occur in the area.

The alluvial placer gravels on the property consist of schist, granite, and volcanic rocks derived from the Plomosa Mountains to the east. The schist exposures in the Plomosa Mountains contain gold-bearing quartz veins and stringers, and probably were a significant source of the placer gold deposits. Photo 6 shows an outcrop of quartz vein similar to exposures which host gold mines in the region. These occurrences are geologically important because they are the host rocks of numerous prolific vein controlled gold mines in Arizona.

The property contains underlying gold placer gravels located within washes that drain the Plomosa Mountains, and these drainages obtain alluvial material from the Plomosa Mining District. Photos 7 and 8 show drainages exposing thick abundant deposits of placer sand and gravel derived from the Plomosa Mountains. As discussed above, historic gold mines are located up-drainage from the property. The placer sand and gravel deposits extend for miles west of the Plomosa Mountains (Photos 9 and 10), and the Plomosa property overlies the drainages and washes that receive material derived from weathering of the Plomosas.

History:
United States Geological Survey (USGS) Bulletin 135 "Placer Gold Deposits of Arizona" indicates gold-bearing placer gravels extend for up to four miles along the western edge of the Plomosa Mountains and production was large in the 1860's. When gold was valued at around $21 per ounce, the value per yard ranged from 71 cents to around two dollars with a high of $20 per yard, which is equivalent to about one ounce per yard. At least 18,000 ounces of gold was produced from the early small-scale placer operations at Plomosa.

Arizona Geological Survey Open-File Report 85-12 "Ore Grades for Metallic Mineral Districts of Arizona" provides list of the average grades of mines in the Southern Plomosa District of La Paz County. The average gold grade was 0.295 ounces per ton, and the average silver grade was 7.487 ounces per ton.

Arizona Geological Survey Bulletin 168 "Gold Placers and Placering in Arizona" states the coarse gold content per cubic yard in the Plomosa District averaged from ten cents to several dollars when gold was valued at $21 per ounce. This gold content is equivalent to approximately 0.120 ounces per yard at the upper end. During 1934 to 1949, production from the district was valued at $176,042 from small dry-placer mining operations that typically only excavated to a depth of about 15 feet. Additionally, some pits were sunk into the placer gravels 5 to 50 feet or more, often encountering cemented gravel (often called caliche) with a much richer gold content.

Arizona Bureau of Geology and Mineral Technology Bulletin 192 "Index of Mining Properties in Yuma County, Arizona" states production from the La Paz placers west of the Plomosa property produced over 50,000 ounces gold from small-scale operations in the two year period from 1862 to 1864. Production from the Plomosa district was at least 18,000 ounces gold.

The Delos Toole's book "Where to Find Arizona Placer Gold" indicates that since 1862 over two million ounces of gold has been produced from the La Posa Plain just west of the Plomosa property. Some of this gold originated from the Plomosa Mountains, which host the property.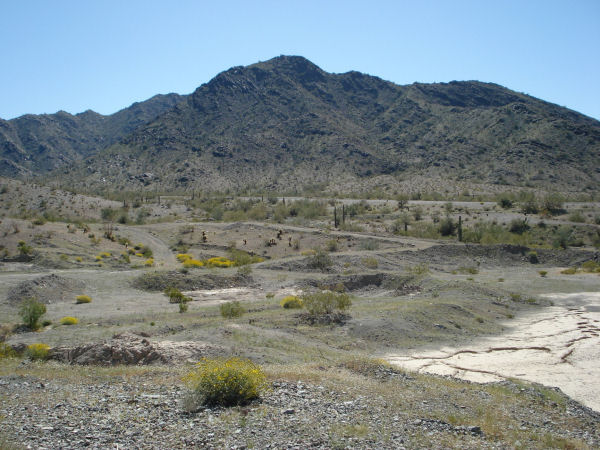 Contact:Panos D. Gianneotis
Telephone: (310) 365-0783

Email:
placerminingcorp@yahoo.com
---


Jan 24.2013


ARIZONA CLAIMS PRICE REDUCTION

Three (3) BLM registered hard rock Gold Claims For Sale. Located within 1.5 miles of major Hwy and rail, with potential spur. Good access with year round spring on site. Claims successfully worked in the 30's. Approx. 300 ton of tailings, 5 existing shafts.

Assay results show GOLD range from 1 - 4.6 oz per ton. SILVER assays show from 2.9 - 8.75 oz per ton. Only Low to medium samples quoted. Much hotter rock available for third party testing. No core drilling tests performed. Major RARE EARTH system present and tested.

Assays available to qualified Buyers.

$380,000.

Contact: Brian Malloy
Email: evol8@ymail.com
---


Jan 22/13


Small Production Mill
Small portable mill can process 250 lbs./hour.
9" impact mill, continuous discharge, 20 mesh screen, chain saw powered, field portable.
$995.00 US. Free shipping in the lower 48.
Contact: Lost Sierra Mining Co.
Email: lostsierra@yahoo.com
---


Jan 20/13


THE GOLD MACHINE

The Gold Machine - where science and technology makes you money. Click links below to view two videos on the Gold Machine. These videos show how the Gold Machine works and how efficient it is. The first video is about the Model 100 (approx. 100 cubic yards/hour) The second video is on the Model 200 (approx. 200 cubic yards/hour) Model 200 & Model 100

There is also a Model 10 (10 yards/hour) available for testing and small scale operations.

For more videos, information, drawings and statistics on this very efficient sluice plant go to: The Gold Machine

Email: northernplacertech@gmail.com
---


Jan 12/13


OLD CHANNEL MAPPING

Tired of Digging blind? With over 50 yrs prospecting we have perfected a method of mapping the ancient channels. There is no guarantee that there is gold there, but you know where you want to dig. We have found 75% of the creeks in Klondike have had the hill slide down over the old channel, as much as 300 feet. We use a satellite resistance system. We have found we are very accurate on location, but we don't get a reading on how deep. We will put the Paleo channel map on a Google earth map and you can see exactly where the channel is, as well as the present channel. We specialize on the Klondike, but we can map anywhere.

After a year of working with the miners we have changed our pricing. We will charge $100 a claim with a gentleman's agreement to pay 1 ounce a claim if you hit the the big one, 1000 ounces or more using our information.

Contact: kpggold@gmail.com
---


Jan.12/13


Trommel For Sale

For sale, Trommel, AS NEW condition, all electric 3 phase drive, water manifold, fully adjustable drum with 28 foot discharge conveyor, shaker deck infeed, c/w 24 inch sluice. Used for bulk sampling less than 1000 yards, 25 to 30 yards per hour capacity. $31,500 or trade for 200 size excavator.

Also, three claims on Summit Creek in gold rich Caribou. Call for price.

For more information call (604) 220-7977.
Contact: Mark
Telephone: (604) 220-7977

---


Jan.11/13


Fortymile River, Browns Creek and Dawson Tandem Partnerships

The Mickey/Fortymile, Tally, Browns Creek, Tandem Dawson City Placer Gold Prospects
The Mickey/Fortymile and Tally prospects are located by the Fortymile River about 48 miles down the Yukon River from Dawson City and the Klondike. It is about a 1-1/2 hour drive from Dawson City on government maintained roads. The Tandem prospect is directly across the Yukon River from Dawson City.
The Mickey/Fortymile prospect consists of a group of thirty-four placer claims that are on a low level terrace of the Fortymile River and on approximately one kilometre of Mickey Creek. Mining land use permit and a water license has been granted on this property.
Tally prospect consists of nine placer claims that are on the lower Fortymile River near the historic Forty Mile town site. Gold has been found on these claims. There is a large steamer and windlass dating back to 1896. Permitting for mining and a ten year water license has been given to mine these claims. There is a government maintained road that goes through the claim block.
The Tandem prospect consists of nine placer claims located on a bench on the west side of the Yukon River facing Dawson City just downriver from the confluence of the Klondike River. There is easy access to Dawson via road and trails.
The Browns Creek prospects consist of thirty-nine claims and a five mile prospecting lease on Browns Creek. There is road and trail access. A land use and water license application is progressing. Parts of this creek have been mined since the 1880's, and by modern methods since the 1970's.
Any group or individual claims can be bought outright, leased or optioned at negotiable terms. A joint venture on some of the claims would be possible to finance further exploration and testing, and potentially mining.
Contact: Grant Allan
Telephone: (867) 332-9975

Email: gallan@northwestel.net
---


Jan.11/13


Klondike Prospectors Group

Searching for the gold bearing paleo channels - the remnants of old stream channels that have been buried by younger sediments.

The Klondike Prospectors Group is a group of prospectors combining the knowledge of many years of prospecting in the Klondike. We have found that all of the creeks we have can be mined with new low water use wash plants and have the original paleo channel just waiting to be washed. We are open to offers on any of our properties. We can answer most of your questions from set up to clean up.

Klondike Prospectors Group - Gold Prospects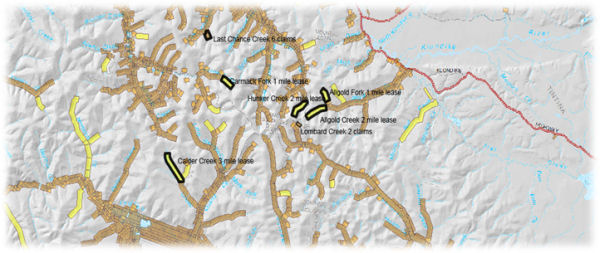 Calder Creek - three mile prospecting lease on the upper part of Calder creek, just south of Eldorado Creek, which was the richest creek in the Klondike. Calder Creek is one of the few under explored gold bearing creeks in the Klondike. Originating on the west end of King Solomon's Dome, it drains into Quartz Creek over a distance of 16 km. Lease valued at $50,000 a mile or $100,000 a mile next year when it's converted to claims.
All Gold Creek - one mile and two mile prospecting leases
A two mile lease on upper All Gold and a one mile lease on the top right fork are on mostly virgin ground. All Gold Creek comes off King Solomon Dome just east of Hunker. The prospect for successful mining looks great. The ground has the same characteristics as the lower creek. There is about 8 feet of black muck on top of the gravel layer with enough water for at least a 4 inch pump all season. Dulac Mining has been recovering about 1 oz. per 120 yds. sluiced on the claims below the lease. There is an existing road from the top and the bottom for access. There has been some hand mining done but almost all of the ground is virgin. Lease valued at $50,000 a mile or $100,000 a mile next year when it's converted to claims.
Hunker Creek - two mile prospecting lease
This is a nice property for the treasure hunter. It is a 2 mile lease on the top right fork of Hunker Creek and it comes right out of the center of the Mitchell Sheba gold bearing quartz deposit in the Klondike schist on King Solomon's Dome. There are several pups on the lease, Hunker Creek was one of the richest creeks in Klondike and it is likely there is a placer gold bearing paleo channel on this fork. It has easy access next to Hunker Road. There is plenty of water for mining. Indications of a deeper channel off to the side and flat spots in bedrock make it an interesting and encouraging prospect. Lease valued at $100,000 a mile and $250 a mile or $25,000 a claim next year when it becomes claims.
Last Chance Creek - six claims
This is one of my favorite properties. It's close to town and yet sort of a forgotten area right in the middle of the gold fields. There are 6 claims on the right fork on some beautiful ground. Plenty of water and room for a nice camp. There are lots of indications of this being worked with several old shafts and a turn of the century dump. Last Chance Creek reported production of 2425 ounces for the 2007 season and 2005 ounces for 2008. This creek isn't done yet! Claims valued at $25,000 each.
Lombard Pup - two claims
This is a small property consisting of 2 claims right at the source of the gold in Dominion Creek. The channel was thought to have come down Lombard Pup and then was lost just past the mouth. Bostock's report states that some of the claims on Dominion Creek were getting $500,000 a claim working by hand as they got close to Lombard Pup in 1901. That is $100,000 a foot if one finds the pay streak again. One miner retired on a cut 2 cat blades wide when he crossed a piece of the old channel on the upper creek. Only 1000 feet of creek is within these claims but it was reported that the layer of gold on this creek was several inches deep on bedrock. Claims valued at $25,000 each.
Carmacks Fork - one mile lease
This fork is located at the top of Bonanza Creek. This is a proven gold bearing creek and this mile was evaluated for sale for $250,000 - $25,000 a claim last year. The ground came open and we were lucky enough to stake it. It's all virgin ground with lots of indications that hand mining was done during the gold rush. The claims below us have been producing at least 1 ounce for each 100 yds. or better with lots of nuggets. The road access is good as there is an old road all the way up the valley. There is lots of water and plenty of room for a nice camp in several places. Claims valued at $25,000 each.
Contact: Bruce Nibecker
Telephone: (867)393-2728
Email: lrfbd@northwestel.net
Contact: Grant Allan
Telephone: (867) 332-9975
Email: gallan@northwestel.net
---


Jan.3.13


Production Mine for Sale or Joint Venture in Yukon

Operating Mine for sale in central Yukon, Canada. Up to 3250 acres (aprox 140 claims) included in sale with all equipment on site. License in place till 2021 on 36 claims and pending for the remainder of the property. Geological and Geophysical exploration in addition to auger drilling testing grids completed. All infrastructure and equipment included is in good working condition and maintenance records available.

This is a turn key operation with detailed info for previous years available to serious inquiries.

Email: mtnansenplacer@hotmail.com
---
More Ads Here. Click Here To Go To Page Two

Investor Clicks Financial Advertising
Investor Clicks Financial Advertising